Neck Massager - The Smart Neck Massager
Relieve all of your tension and soreness in your back and neck with this amazing smart massager. It uses low-frequency TENS pulse principle to stimulate three amazing massage techniques
Ergonomic "L" shape design

Activated Advanced Heating System

Easy to use, easy to get started

Relieves pressure in neck & shoulders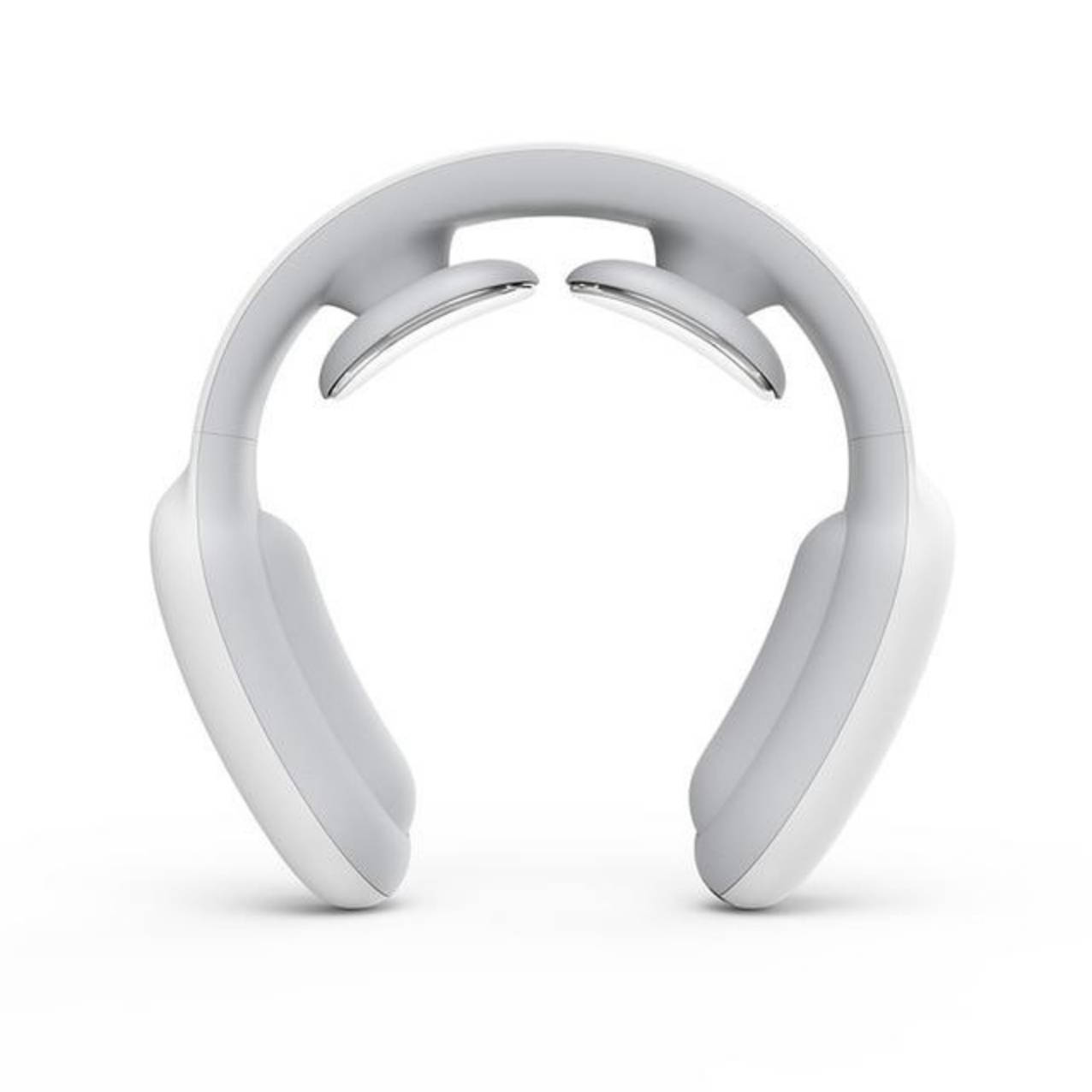 You've got a lot of pain and soreness..
Relax with our amazing Smart Neck Massager that will instantly reduce your neck/shoulder stress.
Instant neck and shoulder relief at the push of a button

No more back pains or neck pains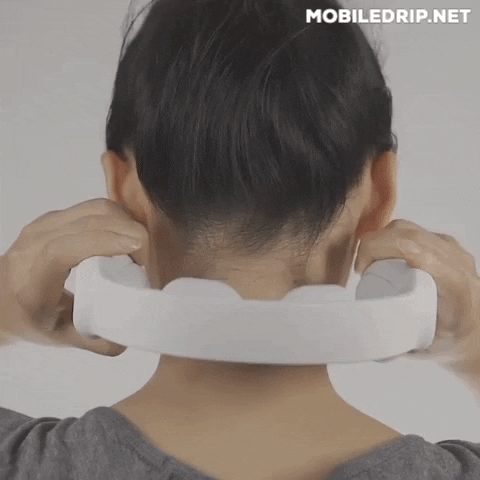 We've got all your problems solved.
Neck Massager easily reduces tension and stress in your neck using pulse vibrating technology. It has a handy remote to easily let you adjust between three modes. Instead relief and relaxation at your fingertips
One size fits all. Contour shape allows for any neck size

Portable, lightweight and effective! Take it with you anywhere

Rechargeable battery Up to 8 hours of relaxation (1600 mAh)
Relieves pressure after a long day
Neck Massager is a massage device that provides you relief like you've never seen before. You'll instantly feel relief in your neck and shoulders as this device was designed to reduce tension in your muscles using our special TENS pulse technology.
This device is more than just talk. It can stimulate real human massage that promotes healthy blood circulation, relieves neck/shoulder pain, and activate tissue cells. You will truly be on your way to a healthier style of living plus ultimate relaxation.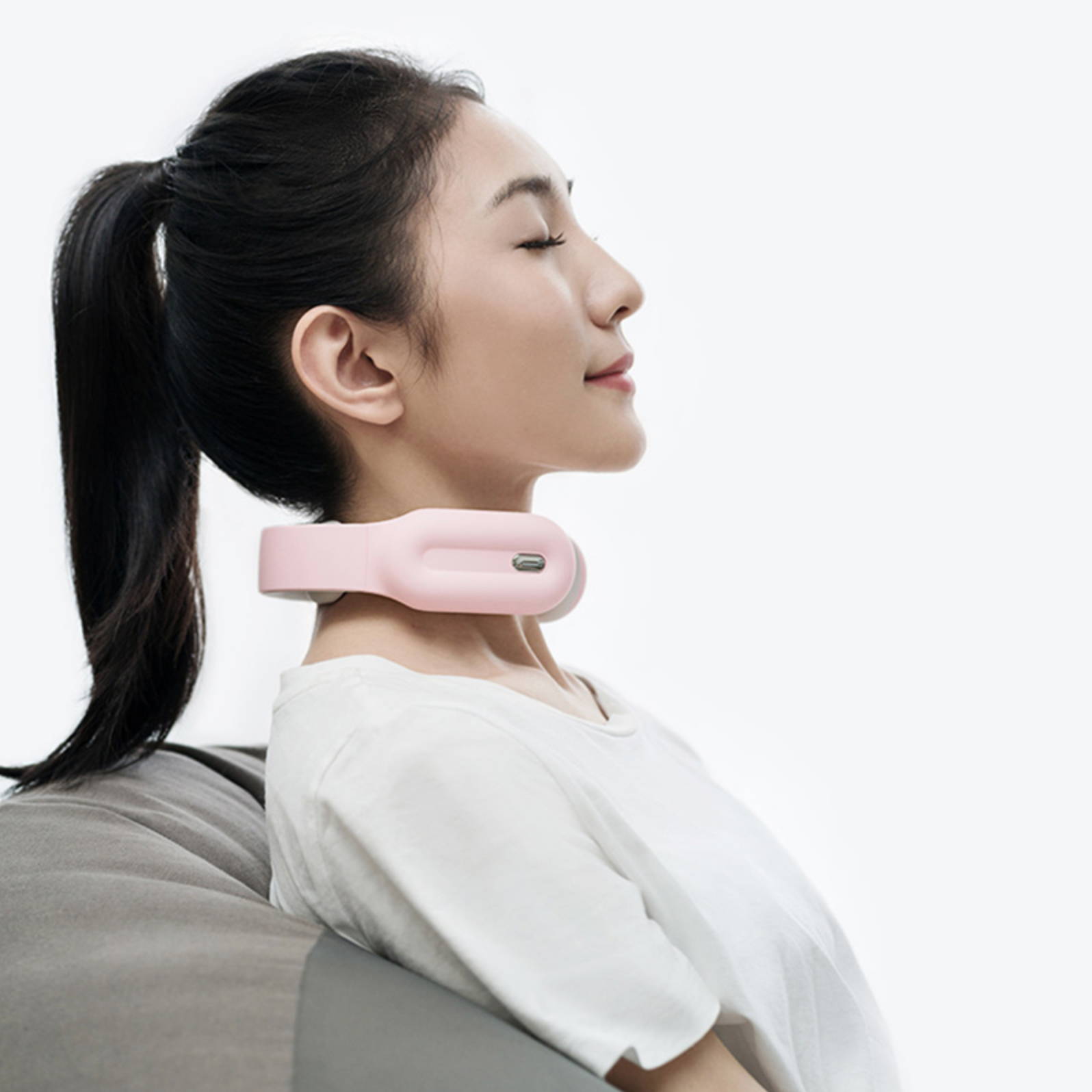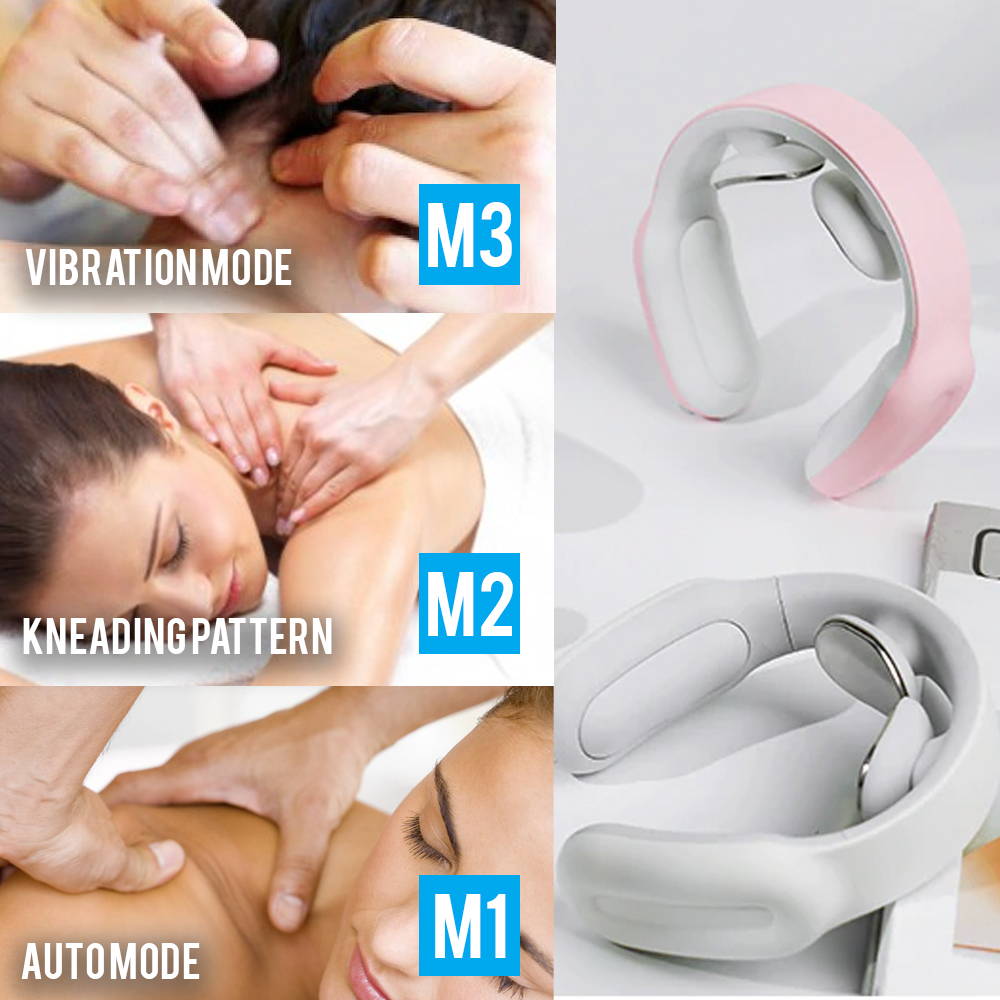 Three Diverse & Powerful Modes
Neck Massager has three amazing modes that use the power of our TENS pulse technology. Each mode was designed to help you relieve stress in a different way by focusing on certain massage methods to reduce tension in all different spots in your neck and shoulder.
Activated Advanced Heating System
Nobody likes the feeling of coldness on the back of your neck. Neck Massager delivers soothing heat which will accurately control to 120°F in 3 seconds. It's basically instant heat!
Warms up to 120°F in 3 seconds

Wireless remote to adjust pressure, heat and mode

Warm plates reduce muscle fatigue and stress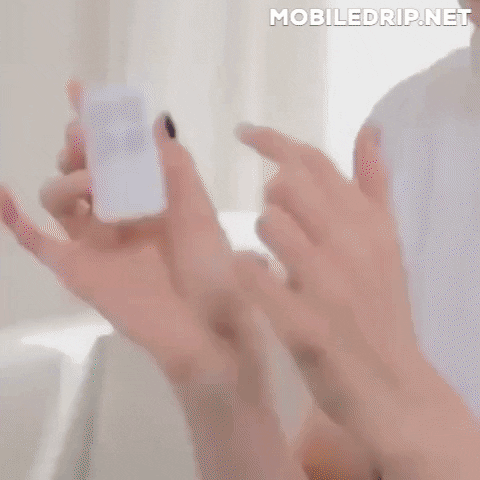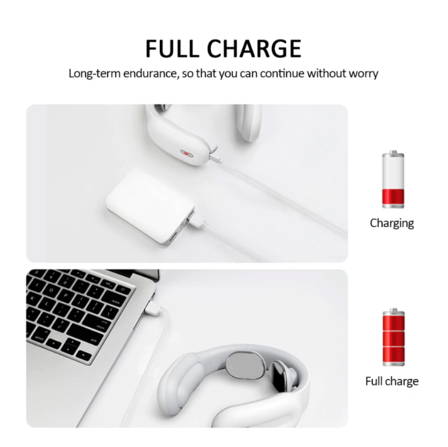 Fast Charging + Longterm Battery Life
Neck Massager can easily be plugged in anywhere as it uses a standard Micro USB connector that prevents overcharge. One full battery charge can easily equal up to 8 hours of full relaxation.
It's perfect for travel and portability!
Universal Fit + Easy to Use
The neck brace is designed to easily fit anyone's neck so you don't have to worry about fitment. It will easily adjust to a comfortable position that will let you use it in all types of places, including the gym, at work, at home etc.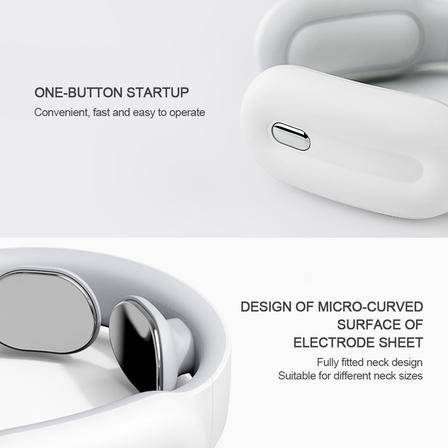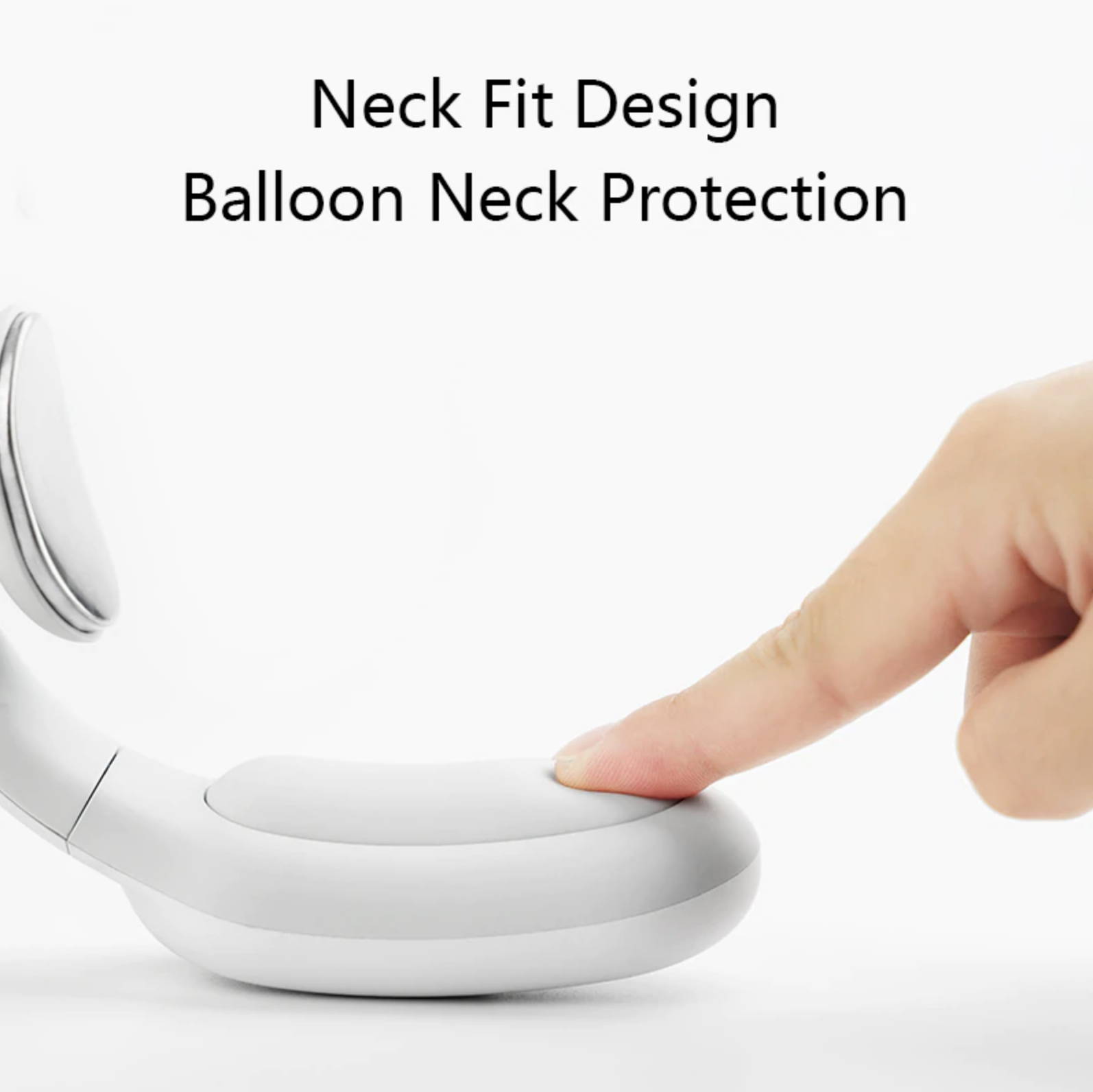 Neck Massager fits around your neck super comfortably and it has "balloon"-like padding that will keep you wearing this for hours. It's definitely one of those items that you won't even notice that it's on after a while.
It was extremely important for us to design something that could be worn for extended hours as people would be using this on-the-go. The special material will keep sweat from damaging it while also remaining extremely comfortable.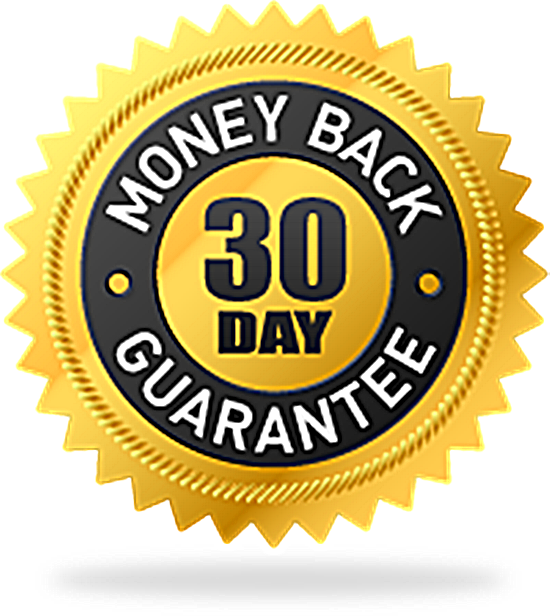 30-Day Money Back Guarantee
If you have any issues with your order of Neck Massager Smart Neck Massager, please do not hesitate to contact our support. We're here for you 24/7
We make it a huge priority make sure you're satisfied while also having the utmost confidence in our products. We will make sure you are 100% satisfied with your order and provide a full refund or free replacement within 30 days of delivery.
TENS pulse technology gives you the perfect massage
Easily maintains and controls even heat when the setting isactivated
Three fully equipped massage modes that have 15 gear adjustments
Softer than a balloon! This neck brace is super comfortable
Easy access to all our features using our special remote
These products are made very well and they will not leak or have any safety issues during shipping
See what our customers are saying about 'Neck Massager'
AMAZING! This neck massager is very good quality and does a great job relaxing the neck and shoulders. It warms up very quickly and is easy to control the strength of the pulses. I HIGHLY recommend the seller who did a great job communicating and did a great job with the packaging. Try it out, it's definitely worth every penny :)
Excellent product. Very useful and fashionable. Fast delivery with retail box. Remote control and USB charging battery. Everything is perfect. Thank seller and recommend it to everyone
Excellent product. Remote control. Silica gel material let the skin feels very comfortable. Effect is very good.
This is a GREAT product, really helps. I love mine and use it at the gym every day.
Neckology - Smart Neck Massager
Good neck massager and also very fashionable